M.A.D.
Music, Art, & Drama
CAMP
 MAD CAMP is a day camp  for those  entering grades 2-6 who enjoy the arts.  During the week, campers will have the opportunity to experience a taste of music, drama, and crafts as they assemble the musical, Rats! The Story of the Pied Piper.
The musical is based on the fairy-tale that takes place in the medieval town of Hamelin, which is overrun by rats, and the citizens are in a tizzy—until the mysterious Pied Piper appears, offering to solve their dilemma for a small fee.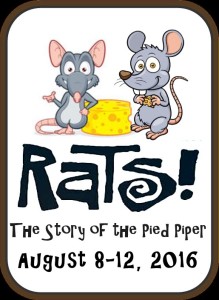 Camp Schedule
Monday-Thursday
  9:00-10:00     Musical Block
  10:15-11:15  Drama/Costume/Scenery
  11:30-12:00  Lunch
  12:15-1:45    Adventure Block
Monday: Duckpin Bowling & Pizza
Tuesday: DNR Scales & Tales Visit
Wednesday: Movie & Popcorn
Thursday: Musical Practice
  2:00-2:30   Handbells/Handchime Practice
  2:30-2:45  Snack Break
  2:45-3:45  Musical Block
  4:00  Pick up time!
Friday (please note pick-up time)
  9:00-10:15     Musical Block
  10:30-11:15  Dress Rehearal I
  11:30-12:00  Lunch
  12:15-12:45  Handbells/Chime Practice
  1:00-2:00  Dress Rehearsal II
  2:00  Pick up time!
  6:00 PM  Community Potluck Dinner
  6:45 PM  Drama & Musical Presentation!
Lunch
Please pack and send along a lunch for your child each day. We will provide water and lemonade at lunch as well as with the afternoon snack. Refillable water bottles are also encouraged.
Wednesday is super hero day!
Other fun stuff!
Handbells/Handchimes introduction
Bowling & Pizza Road Trip
Movie Feature & Popcorn
Scales & Tales DNR Animal Visitors
Camp Director
MAD CAMP is directed by Len Langrick, Music Director at St. James' Episcopal Church.  He is also music educator for Indian Creek School in Crownsville, as well as director of early childhood music education for the Children's Chorus of Maryland.  For camp information: Langrick@verizon.net.