From the Rector – An Epiphany Tradition
"Bless this house and all who inhabit it. Fill us with the light of Christ,
that our concern for others may reflect your love."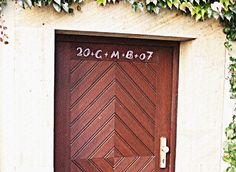 Chalking the door is a fun way to mark the end of the 12 Days of Christmas and celebrate the Epiphany.  It is a way of marking our homes, usually at the front or main entrance, with sacred signs and symbols as we ask God's blessing upon those who live, work, or visit throughout the coming year. In Exodus, the Israelites marked their doors with blood so that the Lord would pass over their homes, but in this service, we mark our doors with chalk as a sign that we have invited God's presence and blessing into our homes.
This year the door marking should read 20 + C + M + B + 18.
The first and last numbers simply refer to the current year. The letters C M B come from the traditional names for the three kings: Caspar, Melchior, and Balthazar. Some also suggest "Christus Mansionem Benedicat" which means, "May Christ bless this dwelling!"
Epiphany is on January 6th.  In Great Britain the tradition is to chalk doors on Twelfth-Night, January 5th, the eve of Epiphany.  Either date is great for marking God's blessing!  Simply gather with family and friends and use the simple service below.
Liturgy & Prayers for Chalking the Door
Leader: Peace be to this house, and to all who enter here.
People: Amen.
One or more of the following prayers maybe said:
May all who come to our home this year rejoice to find Christ living among us; and may we seek and serve, in everyone we meet, that same Jesus who is your incarnate Word, now and forever. Amen.
God of heaven and earth, you revealed your only-begotten One to every nation by the guidance of a star. Bless this house and all who inhabit it. Fill us with the light of Christ, that our concern for others may reflect your love. We ask this through Christ our Savior. Amen.
Loving God, bless this household. May we be blessed with health, goodness of heart, gentleness, and abiding in your will. We ask this through Christ our Savior. Amen.
As participants take turns making the inscription, the leader says:
The three Wise Men, [C] Caspar, [M] Melchior, [B] and Balthasar followed the star to Bethlehem and the child Jesus [20] two thousand, [18] and eighteen years ago. [+ +] May Christ bless our home [+ +], and remain with us throughout the new year. Amen.
All say the Lord's Prayer
Happy Epiphany!
Yours in God's peace,
Kristin+
Chalking the door liturgy and history taken from www.buildingfaith.org.
---
Formation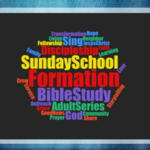 SUNDAY SCHOOL NEWS
Classes in Lower Level every Sunday
Preschool through high school
9:30 – 10:15 a.m.
Happy New Year!  After a very busy Advent and Christmas (thank you all for participating in our Christmas Pageant), we are now ready to begin a New Year – 2018.  Our regular Sunday School classes begin January 7th.
During the next group activity, the children will be decorating bags and putting together items for our breakfast-in-a-bag outreach project for Shepherd's Staff in Westminster.  Your donations of the following items by January 21st will be greatly appreciated:
Granola Bars, Juice Boxes, Fruit Cups, Napkins
In addition, since we do many crafts during the Sunday School year, the following items are always needed and appreciated:
Glue Sticks!  And more Glue Sticks!
Scotch Tape
4 Staplers (the type that opens to staple on bulletin boards)
Thank you for the opportunity to work with your amazing Sunday School students!
Bible Stories for Preschoolers:  Yvette Allen, Sarah Brown
Kindergarten-2nd Grades:  Betsy Davis, Jessica Bahorich
3rd – 5th Grades:  Karen Phillips
6th – 12th Grades: Joan Fader
Group Activities: Nancy Nanavaty
Children's Music:  Jon Fader
Coming in Lent

We will be joining with folks all across the Episcopal Church in reading Luke and Acts this Lent and Easter season.  More to come on how we will engage this individually and as a group soon!  In the mean time read more about The Good Book Club here:  http://www.goodbookclub.org/
---
Youth Group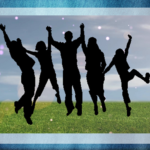 The youth group ended 2017 with great fun, a gift exchange, and kitty carols. Looking into the New Year, we will be very busy! This weekend six youth will head off to Ocean City for the 2018 Youth Rally! At this provincial event we will engage in group devotionals, play outrageous games, and enjoy a variety of concerts.
Upcoming events include the following:
Youth Group on January 14.
For January fellowship on the 4th Sunday of the month, we will gather and head up to Ski Liberty for
February 2nd kicks off Happening #11 for high school youth. This weekend at Bishop Claggett will deepen your relationship with Jesus and connections with those on similar spiritual journeys. Most of this weekend is kept a surprise for those attending so they can fully live into the moment and the community. General activities include large group talks, small group discussion, prayer through art, and games!
If you know a youth, or are interested yourself, please join us! We continue to grow in community on the second Sunday of every month from 6 -7:30 pm. If you have any questions, please contact Meghan McKeever at youth@stjamesmtairy.org
---
WEEKLY ANNOUNCEMENTS
Return Advent Wreath Forms
Have you pulled apart your Advent wreath yet?  If so, please return the metal form to the box in the narthex and we will store them for reuse next year!
Baptism this Sunday!
This Sunday we will welcome Ella May and Trevor Scott Duncan into the family of families we call the church!  Please keep Ella, Trevor, their family and Godparents in your prayers this week.
Candidates for the Vestry Class of 2018-2021
The Vestry Nominating Committee is very excited to announce the candidates for the Vestry Class of 2018-2021:  Heather Albertson, Jason Kilmore, Phillip Massay, and Lucy Winston.  Please mark your calendar now for our annual meeting to be held on Sunday, January 28th at 9:30 a.m.
Outreach Committee Open Invitation
On January 14 between services the Outreach Committee will hold a meeting for anyone interested in joining in on all the services we provide for our community.  We look forward to seeing you!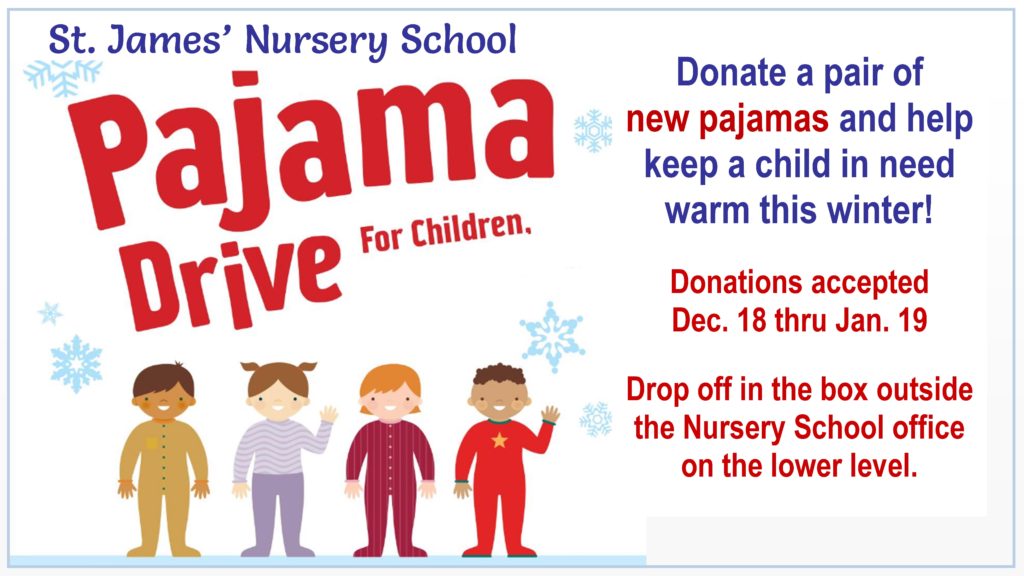 ---
Prayer Rotation
Please join the Daughters of the King in praying for each parishioner in rotation during 2017 by taking this notice home and by posting it where it will remind you to pray on a daily basis for the needs and blessings of:
Jason and Molly Kilmore (Connor, Reagan)
Karl and Samantha Krantz (Ryan, Ava, Olivia, Jax)
Kristin Krantz (Zachary, Jasper)
A member of the Daughters of the King will be contacting  you this week for special prayer requests.
---