From the Rector – The Power of Grieving
In this week after another mass shooting, this time 26 people killed in their place of worship last Sunday, my heart has been heavy.  Should we have had another service of lament, ringing our bells for those who died?  How do we decide when to do this, and when not?  Should we gather after every mass shooting?  That would mean weekly services if we look at how often they occur.  Is there a number of people, or location, that tips the scales to yes or no?  Do we just do it when we next reach the benchmark of 'deadliest mass shooting in modern history,' like after Las Vegas last month?
These are the questions that keep my up at night, that haunt my prayers, because the desire to come together to pray and lament loss is part of who we are as humans, and as Christians.  How we grieve is both universal and personal.  There is no one right way to grieve, but there are some parts of grieving that we all experience.  And, I've learned over the course of ministry, that we can learn a lot about grieving from one another.
This is why I'm thankful that among the flotsam and jetsam of my social media feed this week I came across a 14 minute video called The House of Mourning.  Kate Braestrup, Chaplain for Maine's Game Warden Service, weaves her own narrative of losing her husband, with the story of 5 year old Nina whose 4 year old cousin Andy has died in an accident.  It is a powerful story of death and life – and what she learned about grieving from this little girl.  I hope you will take the time to watch the video below or listen to the story.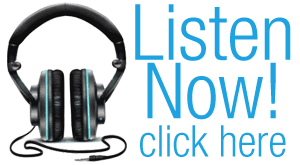 I don't have answers to my earlier questions.  I would value hearing from you about when you think it would be helpful for us to gather together when we experience these national tragedies.  But I what I do know is that there is power in grieving and prayers of lament to God.  However we enter into this today, and every day, let us remember that God is always present, embracing us – crying with us – grieving with us – loving us.
Yours in God's peace,
Kristin+
---
Outreach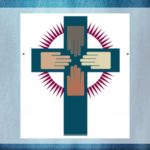 Thanksgiving is soon approaching and St. James' is supporting Mt. Airy Net by providing
Thanksgiving food items.  Some ideas are stuffing, rolls, potatoes, yams, gravy, cranberry sauce, fresh vegetables and pies.   A large blue bin under the table in the Narthex is provided for these items.  There is also a monetary donation box by the poster in the Narthex for the Net to purchase turkeys.
Survey results will be coming soon.  Fifty-one parishioners participated in the survey.  Thank you to everyone who took the time to fill it out and add written comments.
A big thanks to all of you who have taken the time to donate your cards to St. James' Card Ministry.  We have discovered that due to a lack of card sales and volunteers to help that program, St. Jude's will no longer be accepting card fronts.  They are very grateful to everyone who has helped in this effort in the past.
The angel tree will be going up in a matter of weeks with gift requests from children in the Carroll County Foster System.  They are extremely grateful and excited about our willingness to help these children.  If you have any questions regarding the gifts, please contact Karen Larrimore or Cheryl Windsor.
---
Finance/Stewardship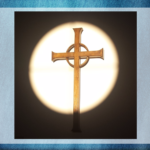 The results of our Stewardship Ingathering Service last Sunday are in!  Thirty-three (33) St. James' parishioners have submitted their Pledge Forms for 2018, and we are a little more than Halfway to our 2018 goal of $205,000.  the pathway on our Journey to Generosity poster is half-filled with bricks.  Please return your Pledge Form so we can completely fill in the poster and meet our 2018 goal!
The next step will be to start on the 2018 Budget for the parish.  Once we know the amount of funds pledged, we can begin allocating these funds to our set expenses (payroll, utilities, Diocese Commitment and our worship needs) and then add or subtract funds from our variable expenses as needed.  At the January Vestry Meeting, the projected 2018 Budget is approved and will be presented to parishioners at the Annual Meeting on January 28 for their final approval.  We ask that your Pledge Form be returned as soon as possible – in the church offering plate, dropped at the church office, or by mail – so the Finance Committee can begin their budget work for the coming year.
---
WEEKLY ANNOUNCEMENTS
Thanksgiving Donations
This year the Outreach Committee is asking for holiday type food donations (potatoes, rolls, fruit, stuffing) for Mt. Airy Net.  Mt. Airy Net will take our donations and make dinners for families in our community.  We would love to see as many fresh donations as possible. (A bag of potatoes rather than canned) Please see the poster in the narthex for more information or ask Patty Bullington or Jeannie Pellicier.  Please bring your donations to the church by Sunday, November 19th.   A box will be nearby if you would like to make a monetary donation for a turkey. Thank you!!
Vestry Nominations
The Vestry Nominating Committee is excited to announce they are accepting nominations for the 2018-2021 Vestry Class.  A nominating form is available in the narthex which details ideal qualities for candidates as well as Vestry member responsibilities.  Outgoing members Jim Bullington, Carla Kaufman, Tim McClanahan, and Blix Winston are also available if you are interested and have questions.  You can submit your name or the name or someone you think would be a candidate in the box in the narthex.
Bishops Unplugged: Western MD
November 18 (grades 6-12)
Saturday 2:00 PM – 5:00 PM
Cost: $5
St. James', Mt Airy 
Spend the afternoon with both bishops in fellowship and fun! A revamp of our annual Bishop's Bash: we will gather for a few hours of music, Bible study, and time to talk with our bishops. We ask that all adult leaders join us for a special gift and prayers of thanks! Join us for this time to gather with youth from the region and have fun.
Registration Forms are available in the narthex.
Quartermania!
St. James' will hold it's semi-annual Quartermania event at the church on FRIDAY, DECEMBER 1st; the doors will open at 6 pm with the games beginning at 7 pm.  Delicious refreshments will also be available for purchase throughout the evening.
For those who may not know, Quartermania is a game that can be played by anyone from three to 93–a great family activity!  Imagine a game that combines Bingo and an Auction using only quarters with lots of prizes to bid on!
E-mailjcgue116@hotmail.com or call Judy at 240-674-1961 to advance reserve a seat for $5 (a $3 discount!); admission fees will be collected at the door.  Come join us to experience this fun game!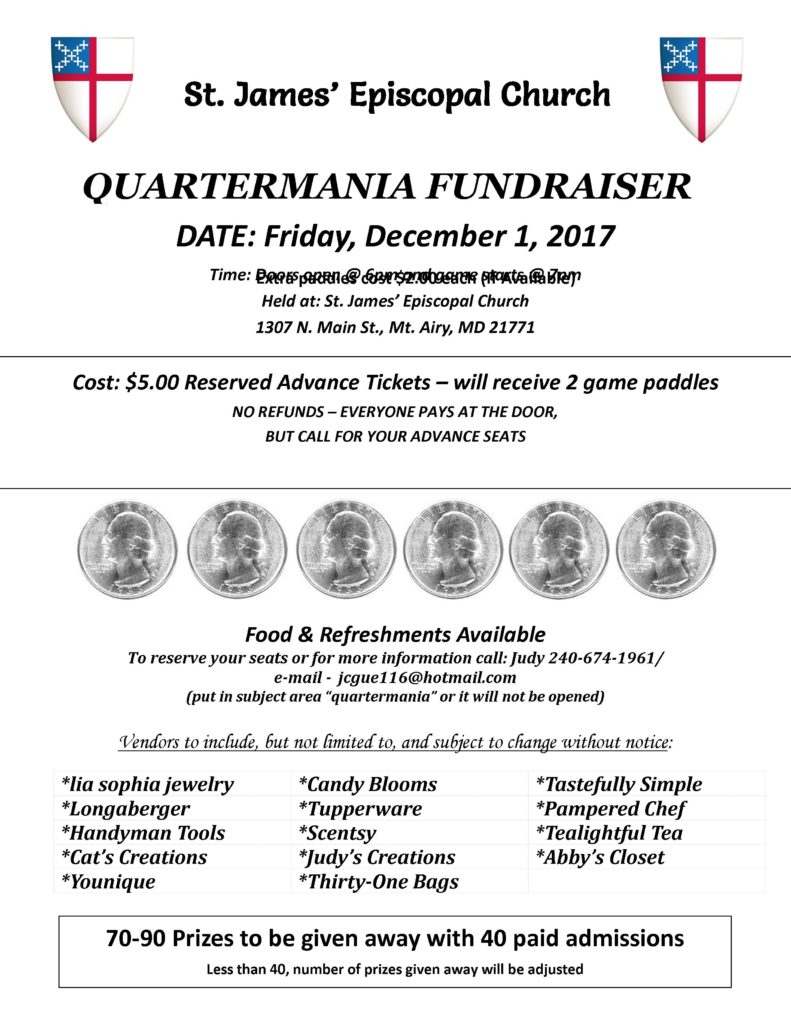 Breakfast with St. Nick at St Andrew's Church, Glenwood
Saturday, December 2 from 9 to 11:30 am at 2892 State Route 97, just south of Glenwood middle School.  Free crafts and fun for the kids!  $1.00 Christmas Shop for kids to buy and wrap gifts.  $8 for those 10 and older.  $6 for children under 10.  Bring your camera to capture your visit with St. Nick.  To reserve a table, email Hannah at hgrahamstandrews @gmail.com.  Tickets are available at the door.
---
Prayer Rotation
Please join the Daughters of the King in praying for each parishioner in rotation during 2017 by taking this notice home and by posting it where it will remind you to pray on a daily basis for the needs and blessings of:
Thomas and Coleen Davis
Cory and Natalie DelRegno
Tyler, Kyle
Leslie Dickinson and Peter Sabonis
Jacob
A member of the Daughters of the King will be contacting  you this week for special prayer requests.
---