From the Rector – Sabbath in the Daily Life
One of the most counter-cultural things I think religion has to offer our over-scheduled and over-stressed world is the practice of sabbath.  It is a foundational part of our faith found in the first creation story in Genesis:  after six days of work God rested, and called it holy.  And when you read the Gospels, you see the pattern again and again of Jesus teaching and healing, and then drawing away with those closest to him to rest and re-center.
Sabbath is about rest and pulling back from the everyday rhythms and commitments of life.  Often when we think of what this means, we think of our next vacation, or perhaps a day off.  That's all well and good, but it works the other way too.
In her book Faithful Families: Creating Sacred Moment at Home, author Traci Smith writes about a sermon she heard once in which the preacher encouraged folks to think about sabbath in another way.  Instead of weeks or days off, isn't it possible to have sabbath hours in our days, and sabbath minutes in our hours?  This idea inspired her to focus on a practice of "mini-sabbath," taking 1-5 minutes to rest and recharge.  To do this, she created simple prompts that work for the whole family – everything from writing down or saying out loud three things you are grateful for, to sitting in silence and drinking a small glass of ice water – not doing anything else.
I am making copies of her One-Minute Sabbath and five-Minute Sabbath cards for folks to pick up and take home to use – look for them in the narthex this Sunday.  Give them a try and see what a difference a holy pause can make in your day.
Yours in God's peace,
Kristin+
---
Nursery School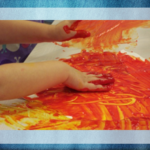 The end of summer means another school year started for the Saint James' Nursery School! The school year for three and four year-olds started with an ice cream social at Watkins Park on Wednesday, August 30th and classes for all ages started after Labor Day.
The Nursery Board would like to thank our Director, Patricia Castle, our Business Manager, Sharon Hansen, our teachers and teachers assistants for all the preparatory work they've done to welcome this year's students. Thanks to our many volunteers too, we are truly grateful. Most importantly, we welcome our students to their new year! We look forward to a year of growth filled with enhancing activities like field trips, special visits, and presentations.
New students can enroll at any point in the school year based on availability. If you know someone with a two, three or four year-old that's interested in our program invite them to schedule a visit. We love to answer questions! We're blessed with a great nursery school – few programs are accredited by both the National Association for the Education of Young Children and the Maryland State Department of Education. In addition to our dual accreditation, the Saint James' Nursery School obtained the highest quality rating possible from the Maryland Excels Program which recognizes quality child care and public prekindergarten programs.
Dave Rak, Nursery School Board Chair
---
Memorial Garden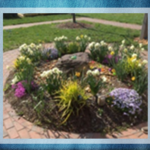 Last year we installed the brick pavers in the Memorial Garden and to mark the anniversary, there will be a Flower Sale after the 8:30 and 10:30 services on October 22.  Pansies and violas will be available on a first come, first serve basis – multiple varieties and colors to choose from.  Weather permitting, outdoor coffee hours will be set up in the Memorial Garden this autumn……
---
Weekly Announcements
Help make our WiFi Better!
In order to improve the internet service in the Nursery School area, we are looking for volunteers to assist with running network cable in the lower level on September 26 from 5-8 pm.  No experience needed—just a willingness to get a little dirty.  Volunteers should bring work gloves and dust masks.  8-foot step ladders would also be helpful.  Pizza will be served.  Please contact Chris Richard at crrichard@sbtechresource.com or 410-608-5299.
Come Honor our Local Police Officers—Feast of St. Michael
On October 1st at the 10:30 am service we will honor our local law enforcement with prayers and a blessing in celebration of St. Michael, Patron Saint of Police Officers.  Please be sure to invite your family and friends who serve our communities; so we can show our thankfulness for their dedication.
St. James' 11th Annual Basket Raffle & Silent Auction
Will take place on Saturday, October 7th – mark your calendars!  In the meantime, there is much to do to prepare and make this fundraiser a success.  
Won't you sign up to give an hour of your time?  We need help on days before, during and after the raffle, so please have a look.  We can't do it without YOU!!

Click the link
Review the options listed and choose the sport(s) you like.
Sign up!  It's easy – you will NOT need to register an account or keep a password on SignUp. com.
To sign up manually contact Betsy Davis at jbeezd@aol.com
Our wonderful "Basket Brigade" has created 60 beautiful filled baskets to be raffled off at the Mt. Airy Fall Fest on October 7th.   Sunday, September 24th, and the following Sunday, October 1st, the baskets will be on display in the sanctuary for the congregation to view and purchase advance raffle tickets following each church service.
Thank you so much to those who have already donated items as well as their time and talents!!
Blessing of the Animals — Feast of St. Francis
October 8, 2:00 pm in the Memorial Garden.  In celebration of the Feast of St. Francis, we invite you to bring your pet to be blessed, to remember those pets who have died, and to celebrate the gift God has given us in all his creatures, especially those who are our companions.  For the safety and comfort of all attending, animals should be leashed or contained in a safe carrier.
Where are our St. James' Young Adults?
The Outreach Committee plans to put up a bulletin board with this information although addresses will be kept in the office for privacy.  We know some are college students, some have joined the military, some have jobs and others may be traveling.  Wherever they are we'd like to hear about all of them.  Since they graduated from high school our young people have gone in many directions.  We'd like to find out where they are and how they're doing.  Parents please contact Laura in the office or Lucy Winston, 301 607-9185, to let us know.
Care Packages for our Young Adults
The Outreach Committee would love to have the names and addresses of all our young men and women that are attending college whether they are away from home or commuting locally.  We plan to send them "care packages" in mid-October and again in late February.  We are collecting boxes of hot chocolate, razors, shower scrubbies, fruit snacks, pencils, cookies, pop tarts, instant coffees, tea, small bottles of hand sanitizer, lotion, chips and microwave popcorn.  Please place them in the box under the table in the Narthex.  Thank you so much!  Please call the office at 301.829.0325 or email office@stjamesmtairy.org with names and addresses.
Prayer Rotation
Please join the Daughters of the King in praying for each parishioner in rotation during 2017 by taking this notice home and by posting it where it will remind you to pray on a daily basis for the needs and blessings of:
Joyce Beddow
David and Florence Brice
David Brinkley
A member of the Daughters of the King will be contacting  you this week for special prayer requests.